The Grand Palace is a truly amazing architectural construction. It is a large complex covering an area of 218,000 square meters which was built in the early years of Chakkri dynasty. The complex consists of four large groups of building serving different royal functions. The first one is the Wat Pra Keaw a royal religious temple. The second is the royal ceremonial complex containing the Chakri Maha Prasat Hall. The third is the royal residence and guest residence, the Borom Phiman Mansion. This is a private zone not a tourist area. The forth is the staff and governmental offices.There are plenty of tour guides to give visitors historical aspects of this beautiful palace. It is certainly a must see for all visitors.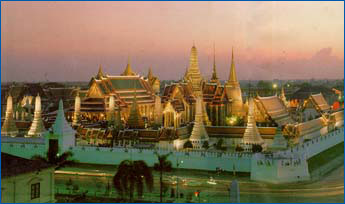 Chakri Maha Prasat Hall was built by king Chulalongkorn (RAMA V). It is used for the reception of foreign ambassadors. It is a beautiful blend of European and Thai architecture.
Eventhough this a wide open space, to see the top of Chakri Maha Prasat you stiil need to raise your head and look up. Only 3 stories but the hieght of each story is so high it could be compare to a 6 story building.
Opposite the Rajruedi Hall is the Hor Phra Sulalai Phiman. At one time this might be a residence of someone in the royal family.
The guards in front of the Palace attract tourist with their calmness, stillness and a deep feeling how aggressive they are suppose to be, make the Palace appear so important. At some point, I think they enjoy it when they are on duty.
Inside the Phra Maha Monthian group of buildings you are surrounded by an inner courtyard. Built by King Rama I. It is uesd for a number of state ceremonies.
| | | |
| --- | --- | --- |
| front balcony | Phimanchaisri gate | royal thai style roof |